I made McCalls 6470 up in a soft craft cotton. The pattern looks designed for a more flowing fabric, like a satin, say. But it worked fine, I think.
I got mum to take some photos. She hates taking photos, but I batted my lashes nicely and she did it for me. Aw! The things mothers do for their children! (Thanks mum!) I took a look at the resulting photo (I only get one chance. She doesn't do repeat shots! so you get a silly expression coz mum had said something that made me laugh.)
Anyway, photo. I was like … what happened??? I look like I have a 'triangle' figure instead of my actual hourglass one. Huh???
Was it the belt? Was it the fact that there is a huge amount of fabric around the shoulders and bust in this pattern, that then narrows to the hips?
Or is it that I used a soft craft cotton that stands out more than the slithery drapy satin reccomended would have?
Or is this just how I look in a straight skirt and I'm not used to it coz I hardly ever wear straight skirts?
Here's the back shot. Again I think it's top-heavy.
So I went experimenting on my own, inside, with some mirror-selfies. I apologise for the crap photos. I know my photos aren't usually that great anyway, but my new phone's photo capacity is really lousy. *facepalm*
Back to the proportions, here is the outfit without the belt. I think it does seem more balanced top and bottom. Funny a belt round the waist changes the emphasis so much.
With both the skirt and the top shortened, (below) I still think it's more top-heavy, though the width of my thighs revealed by the top's higher hem balance it a bit. Or maybe it just makes me look chunky all over?
And with something entirely different – bloomers inspired by these from Phonograph Fashions made with my TNT retro jammies pattern, burda 7109 (I just want to buy that entire shop out, to be honest!)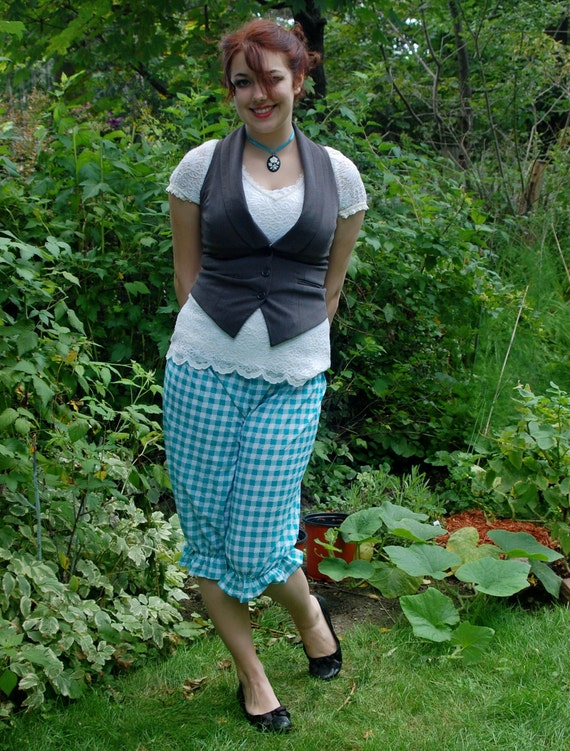 Hmmm. Still emphasises the top, but the bloomers help balance the bottom a bit.
Yup, that's definitely making me look broad across the shoulders. Gosh, IS it possible to look like I have (relatively) slim hips??? I wouldn't know myself if that happened too often!
After all that experimentation and photography, the conclusion I've come to is that it does bring quite an emphasis to the shoulders. Or I could just be seeing things that aren't there.
What do you guys think?