Halfway through last year (like you know, 1914!) I joined the Sew Historical Fortnightly. It's a group that works on challenges set by The Dreamstress each fortnight. I didn't manage to make anything, but this year it's a monthly challenge, which I feel a LOT more able to achieve. Yay!
I've decided that whatever I make will have to have everyday wearability. I can't afford to make costumes just for the sake of it. And I have nowhere to wear them anyway. Not to mention just about everything I've ever seen in historical costuming looks way too HOT to wear. And I'm just not made of the stern stuff that Jeanie Gunn of Elsey Station was made of. I can't wear layer upon layer of clothing in this climate. (I've seen some of her original clothing. OMG. Noooo way could I wear them here! O_O Mataranka is slightly different to Darwin – less humid and hotter in the hot months and cooler in the cool months but still, that woman was incredible.)
Speaking of Jeanie Gunn, I'm hoping to make things that are reflective of the history of Darwin and northern Australia. I'm hoping to look beyond the Northern Territory's Top End, to northern and far northern Queensland as well as northern WA. I'm not sure how feasible this will be but I'm gonna try!
I'm also planning on pushing my skill limits, which is, after all, part of the point of doing challenges!
Last but not least, I want to use as much stash as possible, so the challenges may end up being done in fabrics with very modern patterns printed on them with very modern dyes! (They'll also thus have the very modern advantage of being able to be chucked in a very modern washing machine. Things get washed to death in this climate because they get icky so quickly. Another thing I have always wondered about how Jeannie Gunn coped with.)
So here are the challenges for 2015, and thoughts on what I might do for each challenge.
January – Foundations: make something that is the foundation of a period outfit.
I've wanted to make a pair of Regency stays from this pattern for ages but I've never done anything like it, which has been offputing. Time to dust the pattern off and give it a go!
February – Colour Challenge Blue: Make an item that features blue, in any shade from azure to zaffre.
Too easy! I love blue, this is too easy! One of the things mentioned in The Dreamstress (woman who's running the challenges) says in her post on how to stay sane (!) while participating, is to do accessories. And I want some blue sashes to go with a classic white version of this dress I'm planning to make.
March – Stashbusting: Make something using only fabric, patterns, trims & notions that you already have in stash.
The 1780's portrait dress is to be made with some white cotton already in my stash.
April – War & Peace: the extremes of conflict and long periods of peacetime both influence what people wear.  Make something that shows the effects of war, or of extended peace.
I've always liked the 19teens fashions. After watching the ABC production 'ANZAC Girls' I am really keen to make something from that time. The Australian War Memorial blog has all sorts of great information on recreating the clothing the nurses wore. I actually have some red wool – I could possibly make into one of those capes. I could wear when I head south on a visit to cooler climes. Alternately there's a beyoootiful everyday outfit the woman who was the narrator wore when they were in Egypt at the start of the war.
May – Practicality:  Fancy party frocks are all very well, but everyone, even princesses, sometimes needs a practical garment that you can DO things in.  Create the jeans-and-T-Shirt-get-the-house-clean-and-garden-sorted outfit of your chosen period.
I could always do with more aprons 🙂 I rather like C and D.
June – Out of Your Comfort Zone: Create a garment

 from a time period you haven't done before, or that uses a new skill or technique that you've never tried before. 
HA! I think every single challenge is going to be out of my comfort zone! I'm not really sure what I'd do that is extra-out of my comfort zone that I could still wear for everyday. Perhaps drafting something?
July – Accessorize: The final touch of the right accessory creates the perfect period look.  Bring an outfit together by creating an accessory to go with your historical wardrobe.
Well! Much fun with this one. I accidentally bought a pattern similar to this. I honestly don't know how it ended up in my shopping cart!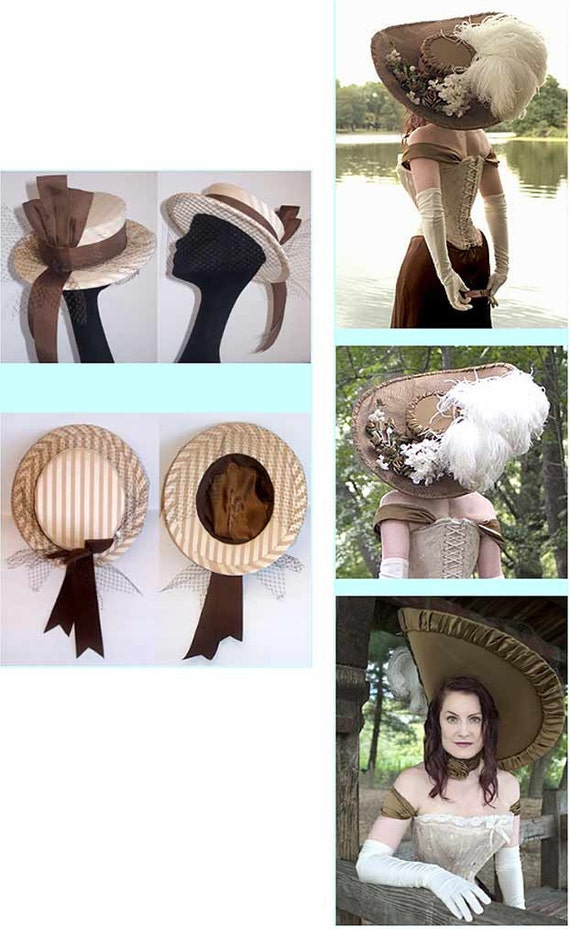 August – Heirlooms & Heritage: Re-create a garment one of your ancestors wore or would have worn, or use an heirloom sewing supply to create a new heirloom to pass down to the next generations.
I have some crocheted lace collar and cuffs from my great grandmother. I could perhaps reproduce them, and make a blouse appropriate to put them on. This is far enough in the future I would have time to do the actual crochet.
September – Colour Challenge Brown: it's not the most exciting colour by modern standards, but brown has been one of the most common, and popular, colours throughout history. Make something brown.
By this stage, if I'm still going, I have no idea where I'll be with all of these challenges, so I'll leave that to the future 🙂
October – Sewing Secrets: Hide something in your sewing, whether it is an almost invisible mend, a secret pocket, a false fastening or front, or a concealed message (such as a political or moral allegiance)
November – Silver Screen: Be inspired by period fashions as shown onscreen (film or TV), and recreate your favourite historical costume as a historically accurate period piece.
December – Re-Do:  It's the last challenge of the year, so let's keep things simple by re-doing any of the previous 11 challenges.