Yeah, so I figure, since I'm still taking photos of everything I make, I'll try to throw the piccies on here, with the kind of info I would want if I were looking at someone else's blog.
I've been SO in over my head teaching ballet the past few years, and trying to write dance blog posts, (And only barely managing) this blog has fallen by the wayside. Hopefully now I'm more used to it I have more energy to do things like keep up my sewing blog.
I saw (pinterest of course!) a Very Pretty Swirly Dress in a soft blue, and wanted one. Unwilling to pay $845AU for this particular dress I raided my stash instead.

I can't even remember what pattern I used for the bodice. By the time I faffed with it, it resembled in no way the original pattern.
This photo of trying it on shows the gathered shoulder and under bust. I  drafted those gathers from a non-gathered top.
Finished! Little cap sleeves and a broomstick style of skirt, each tier being a bit wider and a lot longer than the one above. It took me FOREVER to work out the maths to make the absolute most of the modest amount of fabric I had.
Twirly!
The ruffle is from a broderie anglaise queen bed doona cover I got from an op shop for a few $. LOTS of pretty ruffles!!! Mmmmmm! There was enough for another project, can't remember at the moment what, though.
There's a lot of ease at the bottom of the bodice. I made this dress for the Build Up ie our yukkiest, hottest, humidest horriblest weather, when anything touching your skin is too hot already, just from that touch.
It would be more flattering to simply put some elastic in the back bodice/skirt seam. But then, next Build Up, would it be too hot? Important things to ponder and I still don't have an answer, though I just realised I could unpick it when Build Up 2019 hits. Hmmm….
In the end I drafted view C/D bodice, of this pattern, which I have in my stash already. I should have just used this pattern first! 20/20 hindsight.
On the plus side I have a nice non-gathered crossover bodice that fits me, too, now. Perhaps to make something like this Burdastyle pattern. Mmmmm!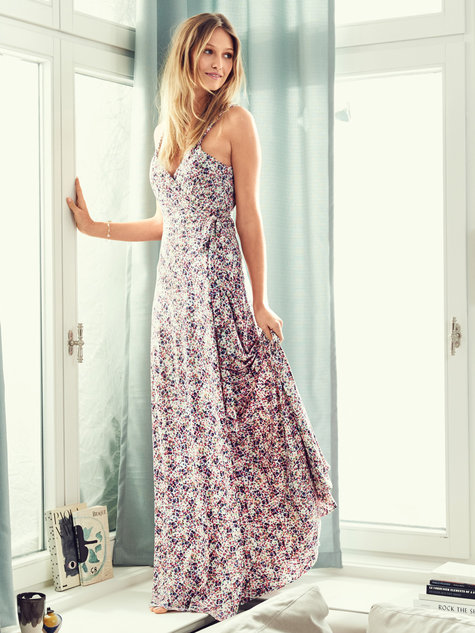 Shoes from This Etsy Shop. Love the shoes, and I get so many compliments on them as well. Absolutely no arch support or anything but the sole is very soft and lets your feet work in a healthy manner.
If you order any, send him a letter with a drawing of your feet for sizing. My original pair was too big, so I sent them back, and ordered another colour (green) too, I loved them so much.